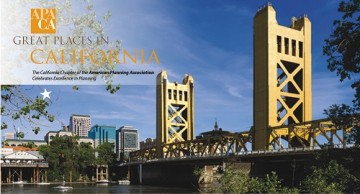 GREAT PLACES IN CALIFORNIA
APA California plans to announce the Great Places in California winners the week of April 13, 2015.
The California Chapter of the America Planning Association is pleased to announce the inaugural year for the Great Places in California Awards. A Great Place in California is one that exemplifies character, quality and excellent planning. It can be anywhere from the beach to the mountains, from a large city to a small community. It can be a vibrant downtown, a suburban gathering place, a historic small town, a public park, or preserved open space. Most important, it must be a place where people want to be! Three awards will be selected in 2015. Please see the nomination form for additional information on the Great Place in California recognition. Nominations are due Friday, March 6, 2015.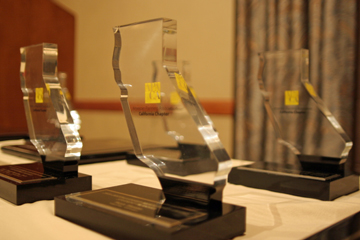 The APA California Awards Program encourages quality in planning and increases the public's awareness of the planning profession by recognizing outstanding achievement in the planning field. The program honors innovative plans and projects, distinguished APA members, lay contributors to planning and achievements of local APA California Sections.
APA California Planning Awards are presented annually at the APA California Conference in two categories: Awards of Excellence and Awards of Merit. Additionally, Scholastic Awards are given to students by the California Planning Foundation, a nonprofit, tax-deductible arm of APA California, and Historic Planning Landmark Awards are given to historical projects.
APA California Awards
APA California is honored to recognize the outstanding planners, projects and planning efforts throughout the state.
Information regarding the 2015 APA California Awards Program will be available soon.
APA California Awards Application
APA California Awards Program Policies
APA California award categories
Opportunity and Empowerment
Comprehensive Planning: Large Jurisdiction (pop. 100,000+)
Comprehensive Planning: Small Jurisdiction (pop. less than 100,000)
Implementation: Large Jurisdiction (pop. 100,000+)
Implementation: Small Jurisdiction (pop. less than 100,000)
Innovation in Green Community Planning
Economic Planning and Development
Transportation Planning
Best Practices
Grassroots Initiative
Public Outreach
Urban Design
Planning Advocate
Planning Firm (private sector)
Planning Agency (public sector)
Emerging Planning and Design Firm
Advancing Diversity and Social Change
Academic
Communications Initiative
Hard-Won Victory
Planning Landmark
Planning Pioneer
Distinguished Service
Distinguished Contribution
Section Activity
Planner Emeritus Network (PEN)
For questions on the Awards Program, please contact:
State Awards Coordinator (North)
Diana Keena, AICP
City of Emeryville
11333 Park Avenue
Emeryville, CA 94608
(510) 596-4360
dkeena@emeryville.org
State Awards Coordinator (South)
Mary P. Wright, AICP, LEED AP ND
Civic Solutions
27362 Calle Arroyo
San Juan Capistrano CA 92675
(949) 489-1442
wright@civicsolutions.com
Vice President for Administration
Kristen Asp, AICP
City of Glendale
633 E. Broadway, Room 103
Glendale CA 91206
(818) 937-8161 (w)
(818) 240-0392 (f)
kasp@glendaleca.gov
Student scholarship Awards
Each year the California Planning Foundation (CPF) invites planning students to compete for a number of scholarships. Scholarships are offered to students enrolled in eligible planning programs in California (both accredited and non-accredited programs). The scholarship awards are recognized at a special student awards luncheon, hosted by CPF, and held separate from the State Awards luncheon during the conference.  Scholarship information is available on the CPF website.