Congratulations 2019 Great Places Winners!
The California Chapter of the American Planning Association is pleased to recognize the three Great Places in California award winners for 2017. A Great Place in California is one that exemplifies character, quality, and excellent planning. A Great Place may be found anywhere from a large city to a small rural community. It may encompass a vibrant downtown, a suburban gathering place, a historic small town, a public park, or a preserved open space. But most importantly, it must be a place where people want to be.
Lake Merritt Park Master Plan + Implementation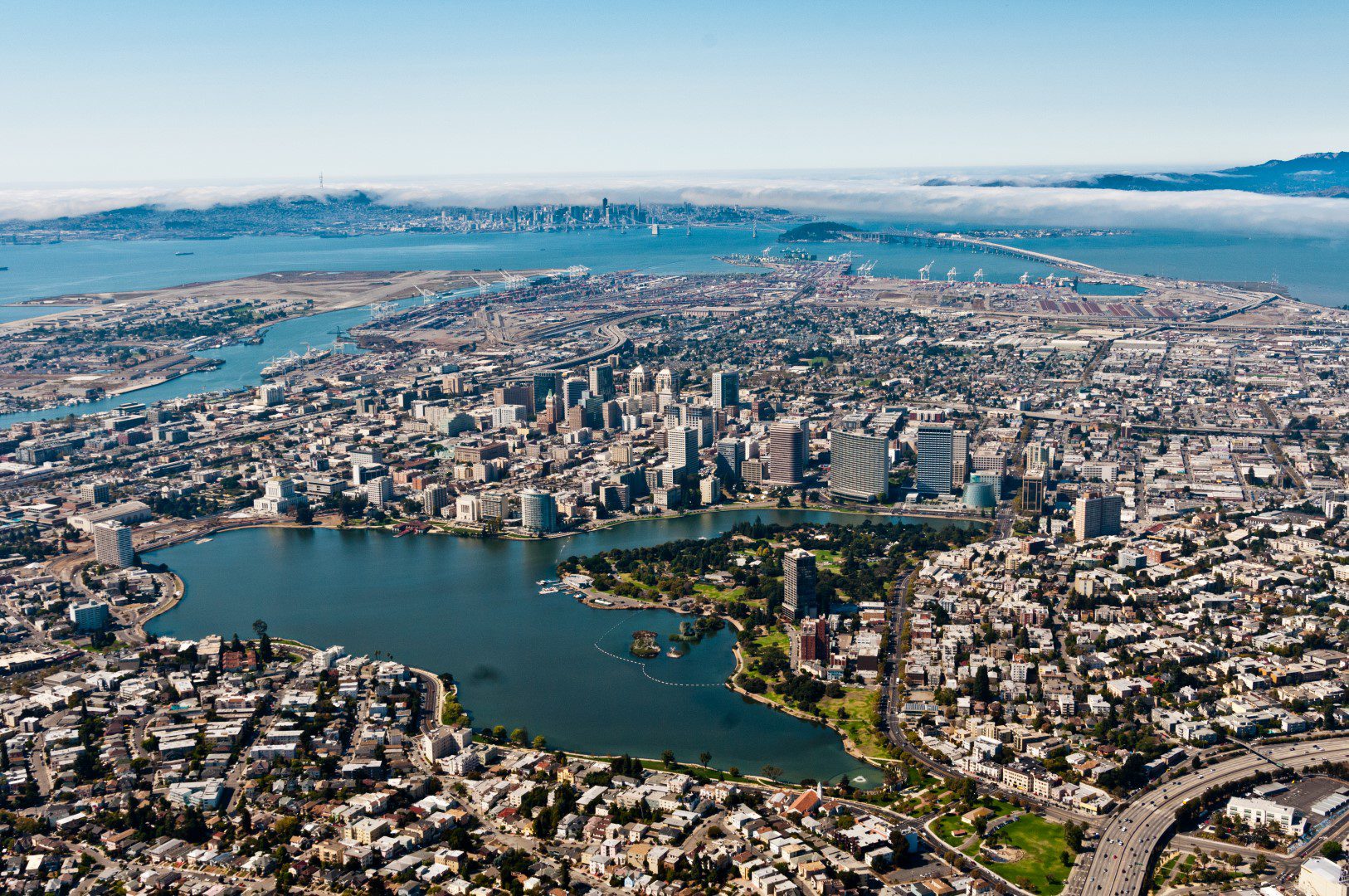 Lake Merritt is considered the "Jewel of Oakland" by many, which serves as an important open space for not only Oakland's neighborhoods, but also for other East Bay communities. The inland estuary connects portions of downtown with its many diverse neighborhoods. Open water and shaded green shoreline parks attract a host of users including bicyclists, joggers, sailors, child craft students, picnickers, garden lovers, and bird enthusiasts. Designated as the first United States Wildlife Refuge in the 1880s, the saltwater lake is home to a range of wildlife species.
The City of Oakland adopted the Lake Merritt Park Master Plan in 2002 with the mission that the restored park will serve as a park for all of Oakland. Its green space, water area, playgrounds, and attractions should serve the widest audience of Oakland citizens and visitors, where they learn about the park as a natural resource – unique ecology within a densely urban environment. Thus, the park's plan was guided by four key tenets – Ecology, Education, Recreation, and Culture.
The ring road that surrounds the park connects to the city grid with easy access to buses, three train stations, and a network of pedestrian and bike routes. Over the years, it has become a venue for multicultural festivals such as Afro Soca Love, Lake Fest, The Pride parade, July 4th, and various festivals that attract thousands of people from all over the Bay Area. It has also become an important venue for political and social movements such as the Women's March.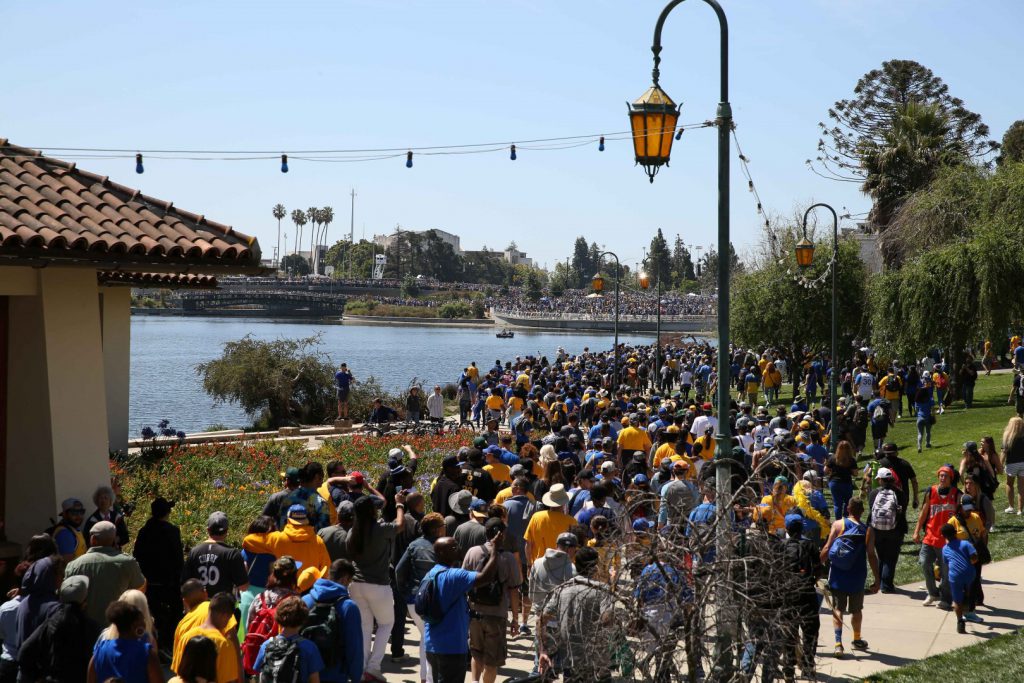 Throughout its history, Lake Merritt has been a subject of notable Oakland philanthropy and civic engagement that has contributed significantly to the revitalization and improvement of the park, and the official park master plan.
Lake Merritt's historical evolution is marked by layers of ecological heritage, unique neighborhood cultures, and recreational resources. The Lake – a part of the original estuary system – its bay connection, and the stream corridors leading in to it, once played a major role in the function of this ecosystem. Creek restorations, reopening of the estuary, interpretive elements, habitat restorations, and improving water quality were ecologically transformative features of the Park Master Plan that have been implemented.
Gateways are coordinated with the locations of creeks and borrow from that character. Lake Merritt is central to both the downtown core, as well as the many historic neighborhoods that surround its edge. Each neighborhood district projects a unique culture rooted in a social story of ethnic diversity, architectural patterns, and urban form. Small plazas, docks, promenades, and other design elements tell these unique stories. Street tree species are associated with each neighborhood. Special history markers advance the efforts of Oakland to identify and present its rich past. For the recreational benefit of all, new, uninterrupted jogging and walking paths were created around the Lake. Similarly, new bike lanes were added to the roads surrounding the park.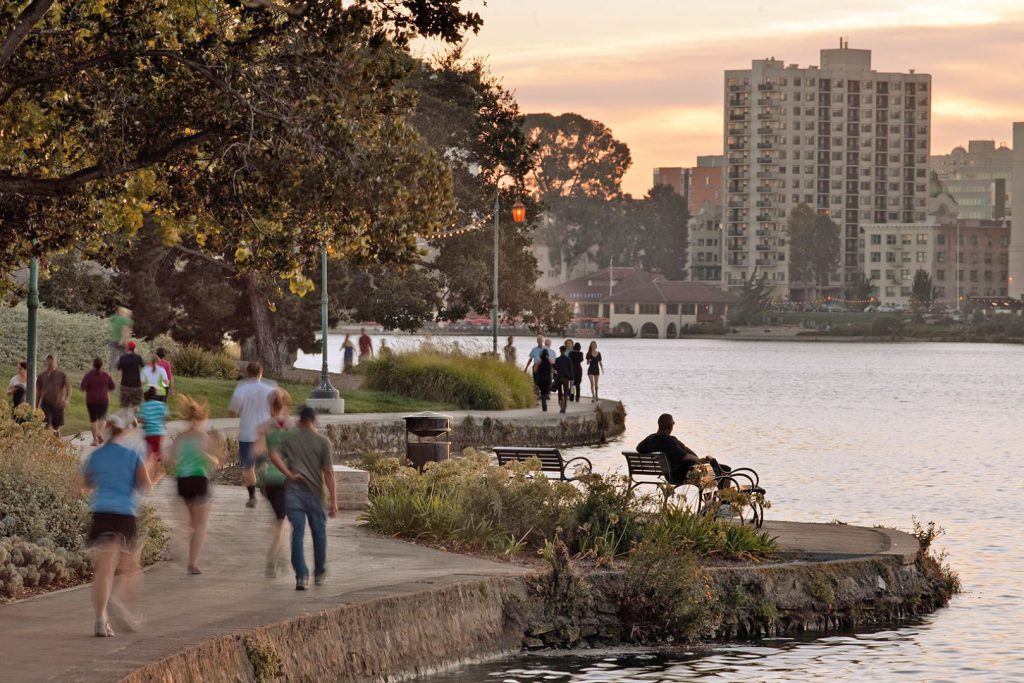 The landscape and urban design improvements have dramatically increased the amount of commuter cyclists, recreational riders, children, and pedestrian strollers in the parkland and adjacent streets around the lake, while rehabilitation of historic elements reestablished these important public places as valuable social spaces for community members and visitors to enjoy. Two historic resources – the Oakland Heritage Alliance and the Oakland Museum – are located on Lake Merritt. History markers are proposed to present the history of the lake – its events, people, related Oakland lore, and the history of the surrounding neighborhoods.
The history of Lake Merritt dates back to the late 1700s when it was marshy brackish tidal marsh resulting from the upland drainage of four streams. Over the years the marshes were subject to sewage disposal and damming. In the 1870s, it was declared by the state government as the first wildlife refuge in the United States. It was listed as a National Historic Landmark in 1963 and National Register of Historic Places in 1966. Over the years, the patterns of use around the lake have evolved to give it a defined urban edge. Several civic, institutional, and recreational projects such as the Laney College, Children's Fairyland, Rotary Natural Science Center, and, more recently, the Church of Christ the Light were built – making it an important civic core of Oakland. As the population of Oakland grew, access to the park became more critical as it provided the much-needed connection with nature. In the early 2000s, the process of restoring water health, adding park space, renovating park facilities, and altering surrounding infrastructure for calming traffic began.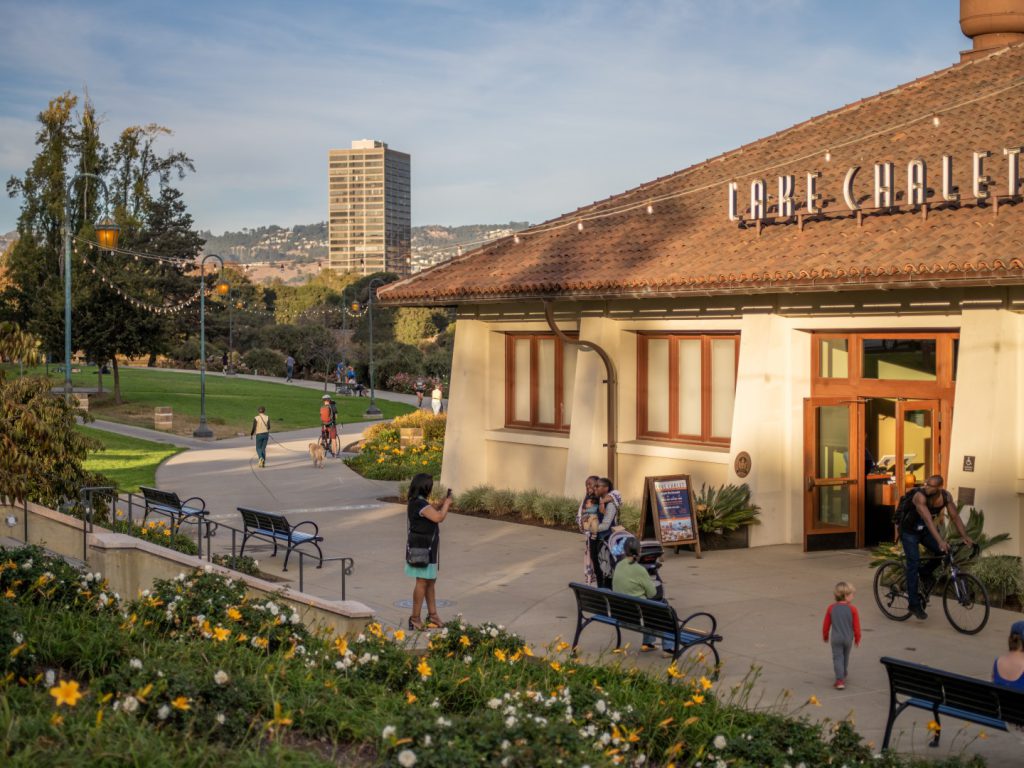 Today Lake Merritt is an enduring and successful public space and an indispensable part of civic life.
---
El Pueblo de Los Angeles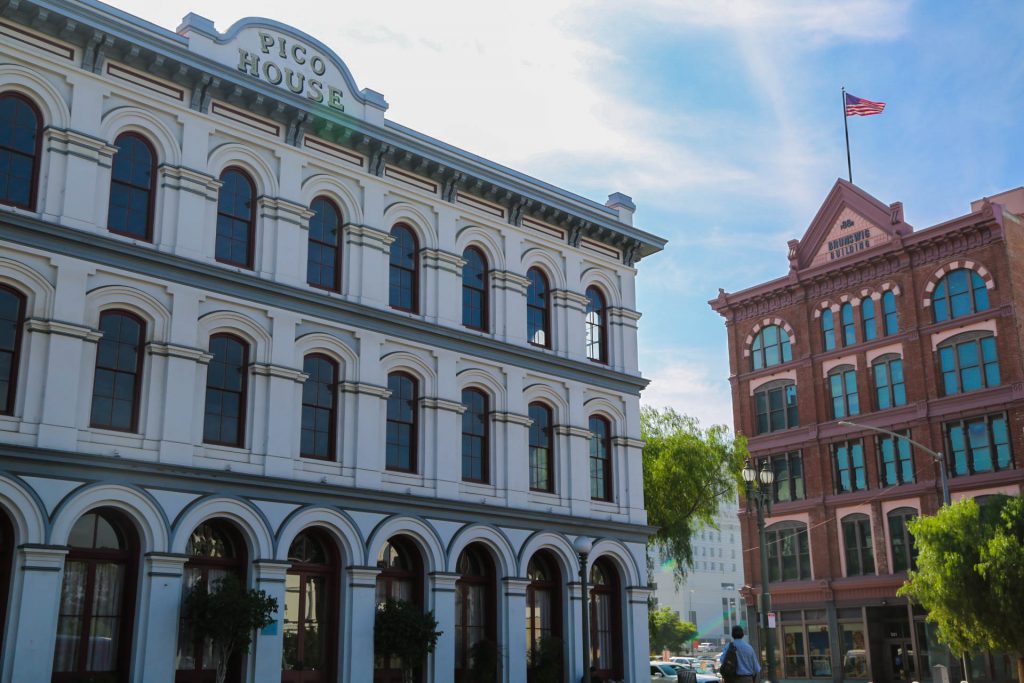 A Great Place is memorable to the community and individuals that use the space.
El Pueblo is a historic district located in the heart of Los Angeles. It is the site where forty-four settlers of Native American, African, and European heritage journeyed for more than one-thousand miles across the desert from present-day Mexico in September 1781 to establish a farming community. Today, El Pueblo serves as a living museum that continues to fulfill its unique role as the historic and symbolic heart of Los Angeles and original birthplace of the City.
El Pueblo embodies the foundation and evolution of Los Angeles, as demonstrated through its rich historical context and diverse cultural resources. Food festivals, receptions, concerts, health fairs, dance performances, art exhibits, and other cultural activities take place here. Not only is El Pueblo a popular tourist destination — drawing more than 2 million visitors annually, it is also very much a destination for Los Angeles' diverse communities.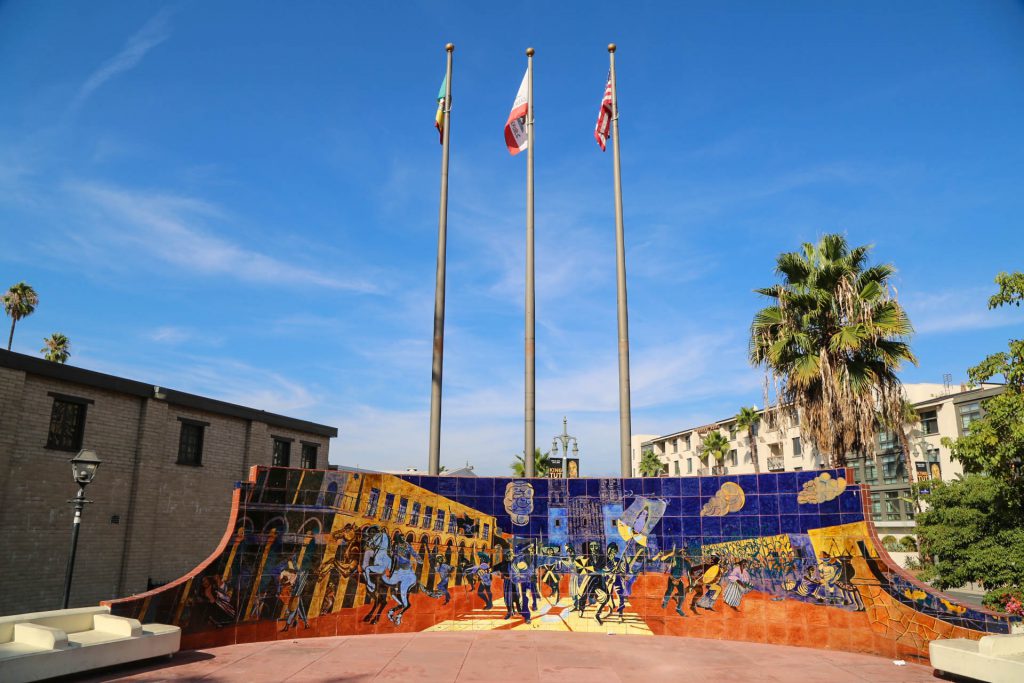 El Pueblo continues to serve as a hub for cultural immersion and a place of remembrance for the community with notable assets that include the Chinese American Museum, Avila Adobe, Olvera Street, Italian American Museum, Pico House, and Museum of Social Justice.
A Great Place contributes to the vibrancy and/or livability of a community.
El Pueblo Historical Monument has eight museums and galleries. The major events and cultural programming, along with its museums, are free to the public. El Pueblo functions as a gathering place for music festivals, Las Posadas, Dia de Los Muertos, LA Opera Zarzuela annual performance, Blessing of the Animals, Shakespeare in the Park, Cinco de Mayo celebration, and the Lantern Festival among others events.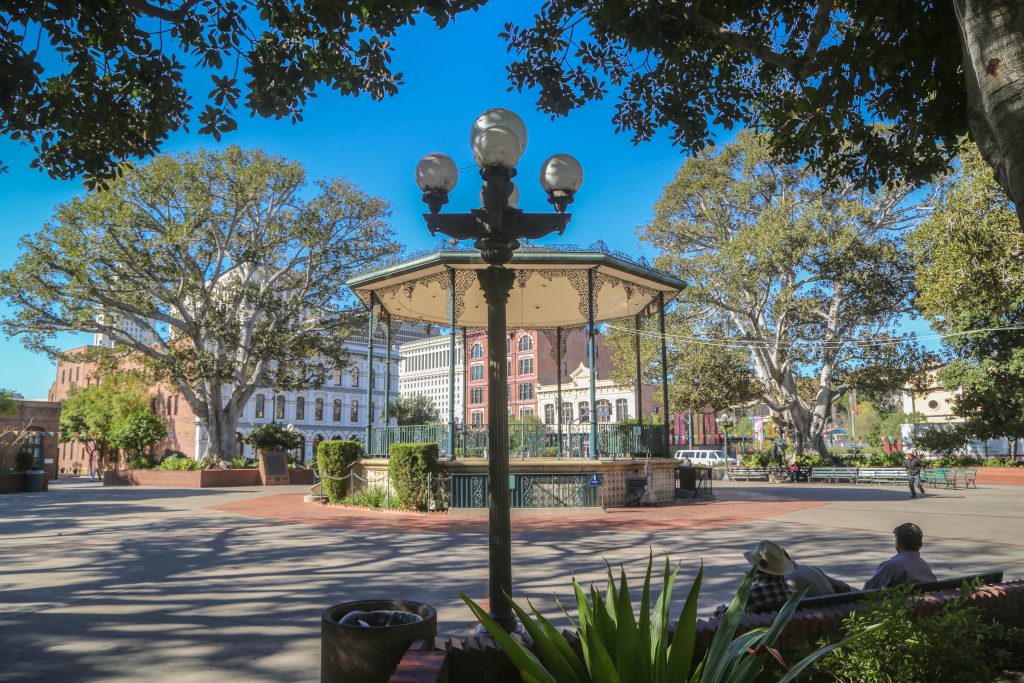 El Pueblo is located directly across the street from Union Station — Downtown Los Angeles' major transit hub. Its sites are directly accessible by light rail, AmTrack, regional train lines, and an extensive bus network. A common site is to see are hundreds of Dodger fans enjoying lunch on Olvera Street prior to boarding the express shuttle bus to Dodger Stadium.
A Great Place contributes to a resident's day-to-day quality of living, encouraging human contact and social activities.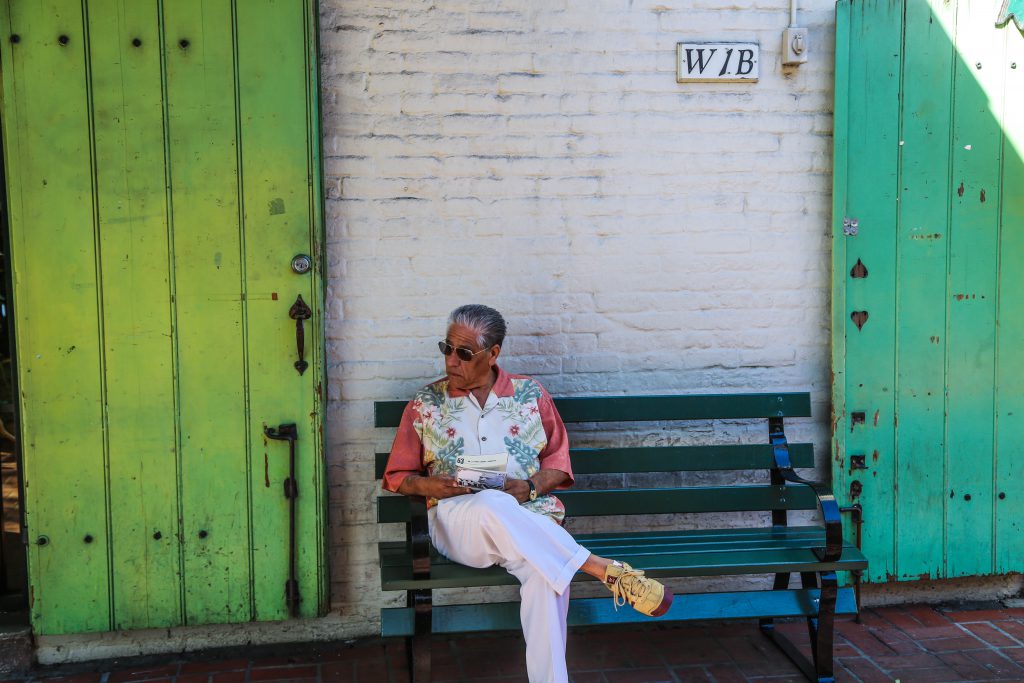 El Pueblo contributes and encourages human interaction and social activities not only through its cultural events but also through its design. The open-air markets along Olvera Street are particularly conducive to human interaction. A Great Place from a planning perspective includes linkages to the surrounding community. El Pueblo is within walking distance of Downtown Los Angeles, and accessible by foot, bicycle through Los Angeles' continuous investment in bike infrastructure and
public transit at Union Station.
El Pueblo recently installed additional mid-block crosswalks to improve access to new museums and nearby commercial development. The City's management of the site has ensured consistent tree trimming, maintenance of sidewalk furniture, flourishing outdoor dining culture, and the installation of historical markers to promote the significance of this historic monument.
A Great Place has a visually interesting design and architectural features and it may also be historic.
The majority of the storefront shops located near the Los Angeles Plaza Park have been locally owned and passed down for nearly 100 years. From La Iglesia de Nuestra Señora la Reina de Los Ángeles — a Spanish style church — to the oldest standing building in Los Angeles — Avila Adobe, El Pueblo encompasses architectural and historical features that are indicative of the history of Los Angeles and California. El Pueblo was declared a state historic monument is 1953 and was added to the National Register of Historic Places in 1972.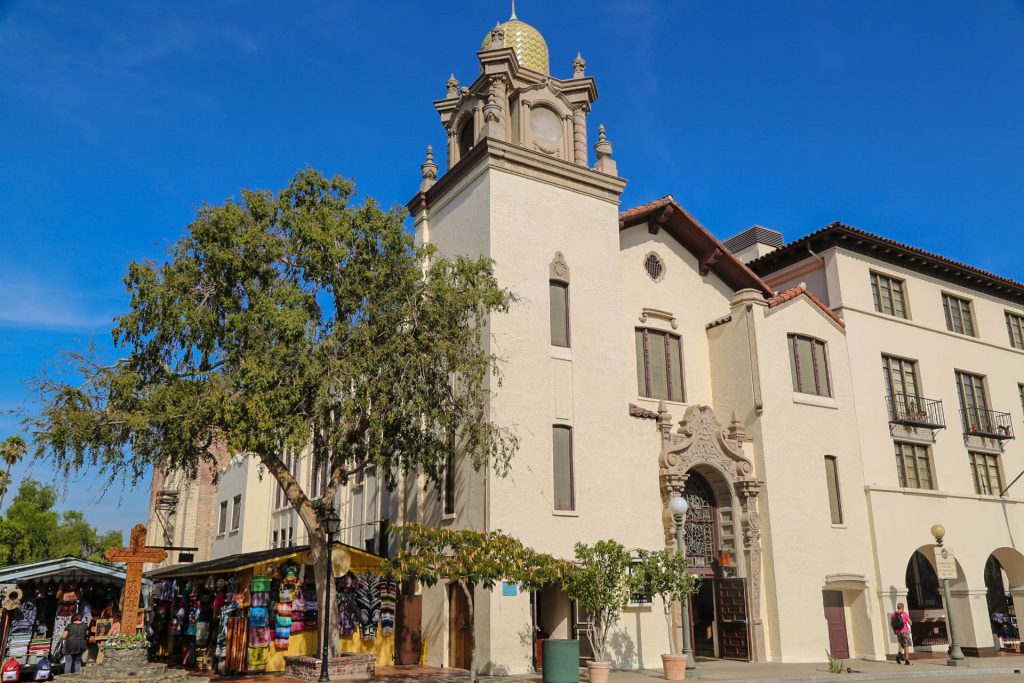 El Pueblo showcases historic buildings from the Spanish Period (1818) Avila Adobe, Our Lady Queen of Angels Church, and the Los Angeles Plaza, and throughout the building boom of the 1870s and 1880, featuring notable buildings like the Pico House, Garnier Building, and Merced Theater. The most recent addition of El Pueblo's historic period includes the early modern development of Los Angeles up until 1932. During this time, Olvera Street Mexican Marketplace (an early example of cultural tourism), Italian Hall, the Plaza Substation (Henry Huntington's Los Angeles Railway building), and the America Tropical mural by David Alfaro Siqueiros were introduced to the general vicinity.
1781 – Founding of El Pueblo de la Reina de Los Angeles under Spain (Governor Felipe de Neve)
1818 – Avila Adobe completed
1818-1822 La Placita Church
1821 – Mexico Gains Independence from Spain
1825 – Los Angeles Plaza location "finalized"
1835 – Los Angeles raised to status of City by the Congress of Mexico (from "Pueblo")
1846-1848 – Mexican – American War
1850 – California Statehood under the United States
1855 – Masonic Hall
1870 – Pico House Hotel
1871 – Merced Theater
1877 – Vine Street renamed for Judge Agustin Olvera
1890 – Garnier Building
1907-08 – Italian Hall
1926 – La Plaza United Methodist Church
1930 – Olvera Street Mexican Marketplace Opens
1932 – "America Tropical" painted by David Alfaro Siqueiros
1953 – El Pueblo de Los Angeles State Historic Park (Operated under State, LA County, LA City)
1990 – City of LA becomes lead in operating El Pueblo Historical Monument