Distance Education
---
The APA California Distance Education program provides members with professional development CM credit opportunities through webinars, livestreaming and on-demand videos. All Chapter members are welcome and encouraged to use these professional development resources either individually or in group settings to facilitate discussion and further learning.
On-Demand Library
On-demand videos are recordings of webinars or live events will be available below. Depending on the source, they may contain video, audio, and PowerPoint slides. Initial availability is generally announced through Chapter eNews while a full list of available videos is accessible from this page.
Most on-demand videos are available for a modest fee. Pricing varies depending on the number of CM credits offered and other factors such as group viewing and package discounts. Current pricing is provided on the registration access pages below.
2023 Videos
CM | 1.0 | ETHICS
APA Members $15 • Students $5
---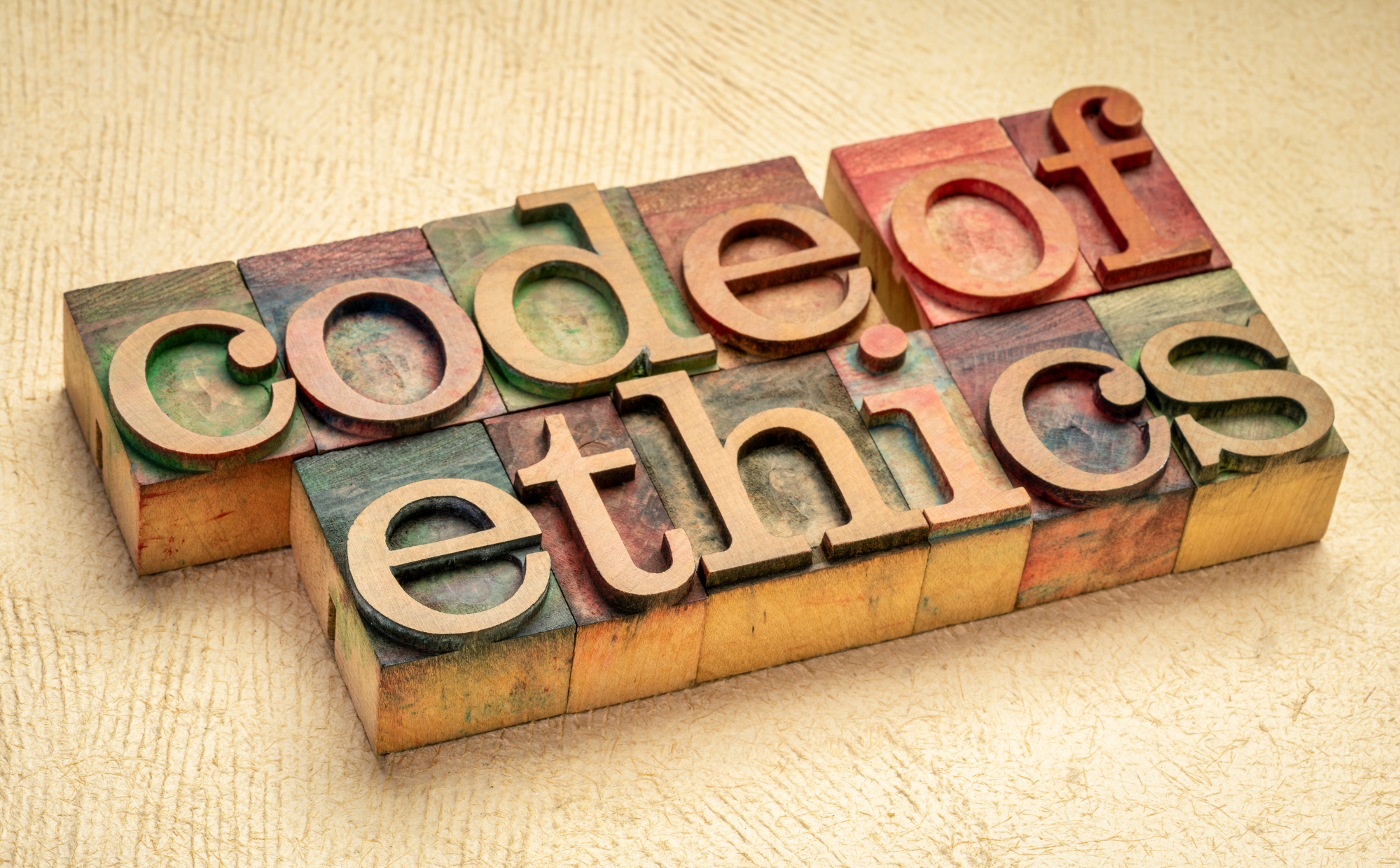 Still need to fulfill your mandatory Ethics CM credits for the 2022 – 2023 period? Want to learn about and better understand the revised Code of Ethics?
In this video from the Northern Section/APA California webinar, experts review changes to the AICP Code of Ethics and discuss the most recent Ethics Cases of the Year!
---
Speakers include:
Miroo Desai, AICP, AICP Commissioner for Region VI and Principal Planner, City of Emeryville
Robert B. Olshansky, Ph.D., FAICP, Visiting Professor, University of California, Berkeley Department of City and Regional Planning
Timothy Rood, AICP, LEED AP, Community Development Director, City of Hercules
Maureen Toms, AICP, Deputy Director – Policy Planning Division, Contra Costa County
Libby Tyler, FAICP, Northern Section Director-Elect and Community Development Director, City of San Pablo
Questions? Contact support at [email protected]
CM | 1.5 | Law
APA Members $20 • Non-Members $25 • Students $5
---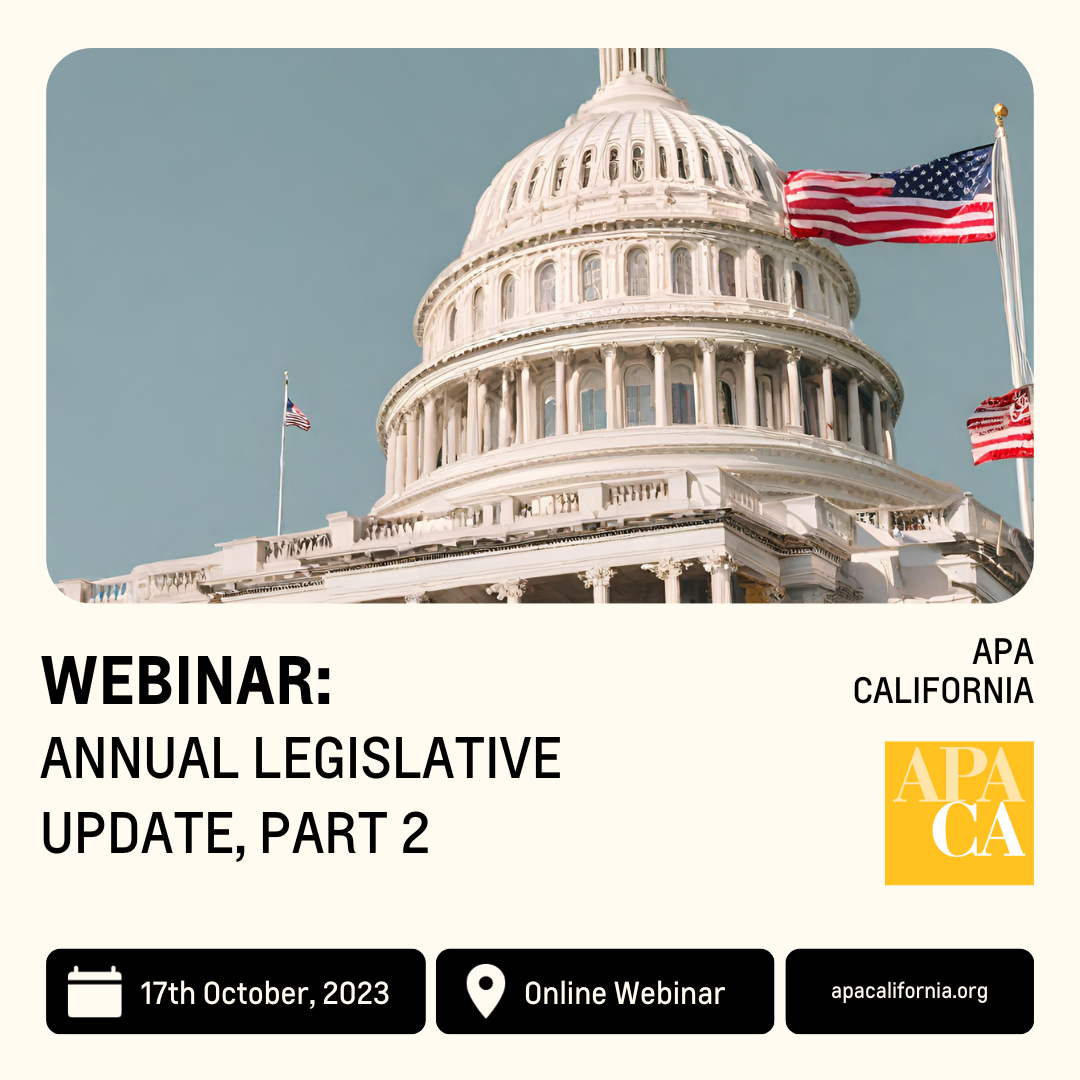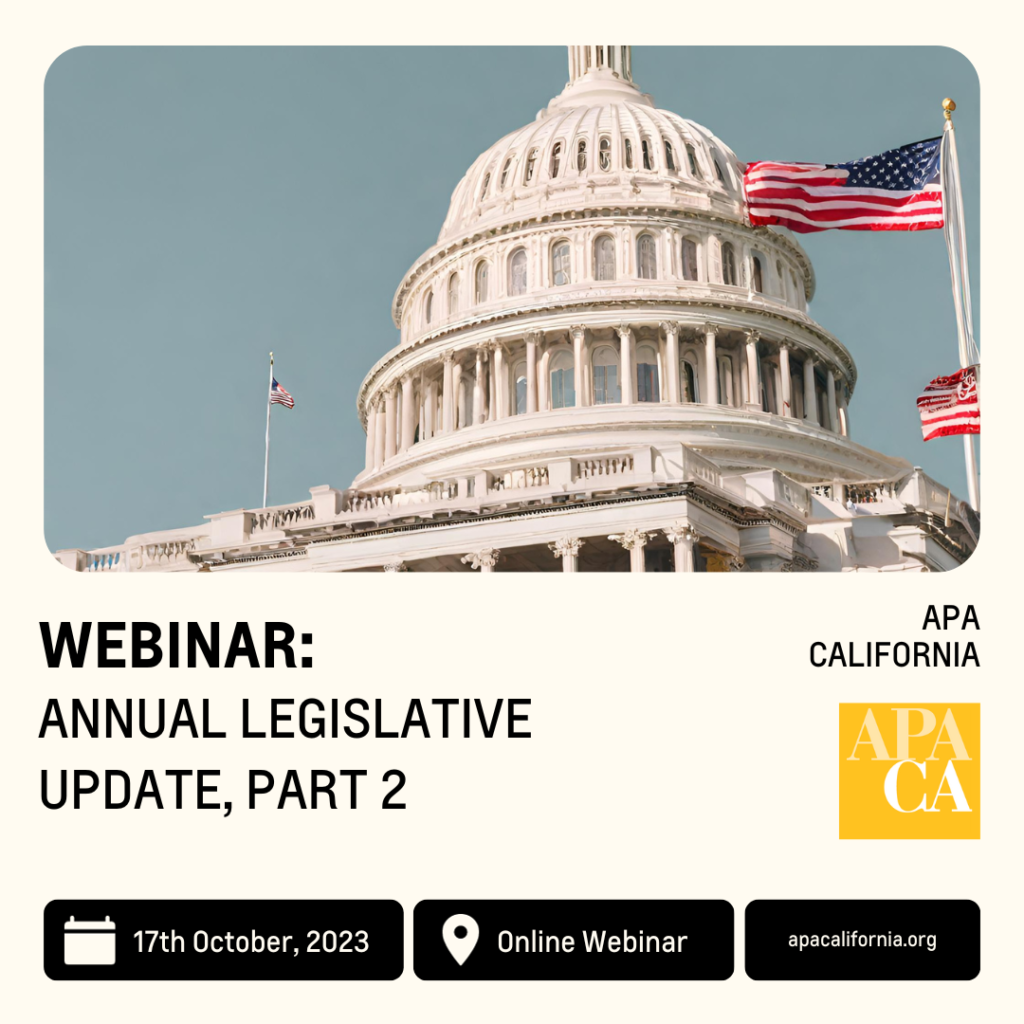 Curious to find out which bills were signed, vetoed, or carried over to next year? Come join APA California's VP for Policy and Legislation (Erik de Kok), Technical Advisor (Tom Pace), and Chapter Lobbyist (Lauren De Valencia y Sanchez) for a recap of the final outcomes of the 2023 legislative session. We will summarize the year's most important bills, how they relate, and how to prepare for implementation. If you attended the Annual Legislative Update session at the conference, this "Part 2" webinar may also be of interest as we will cover key actions taken by the Legislature and Governor after the APA CA Conference.
---
Speakers include:
Erik de Kok, VP Policy and Legislation, Director of Interdisciplinary Planning, Ascent
Tom Pace, Technical Advisor, Director, City of Sacramento Community Development – Planning
Lauren De Valencia, Chapter Lobbyist, Stefan/George Associates
Questions? Contact support at [email protected]
CM | 1.5
APA Members $20 • Non-Members $25 • Students $5
---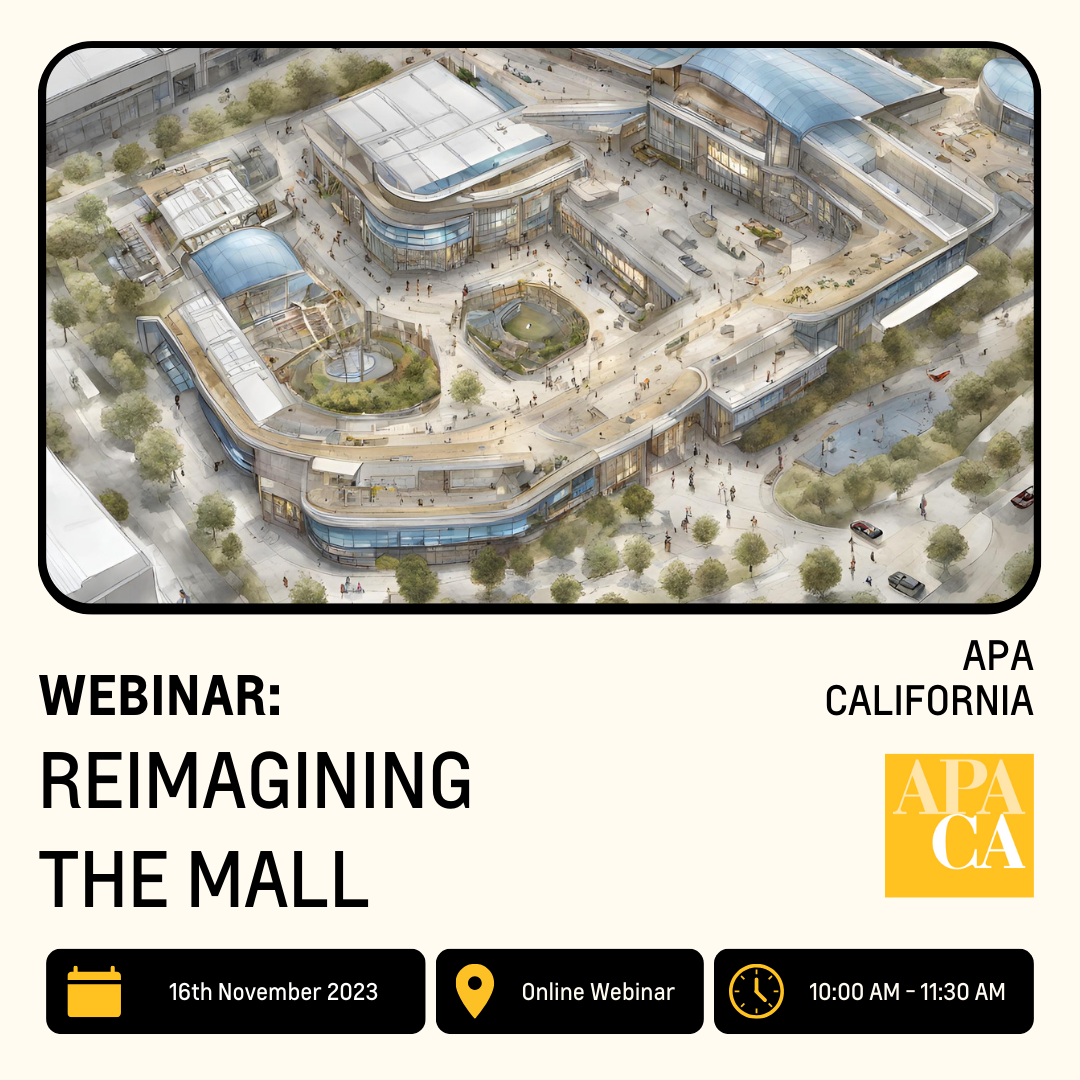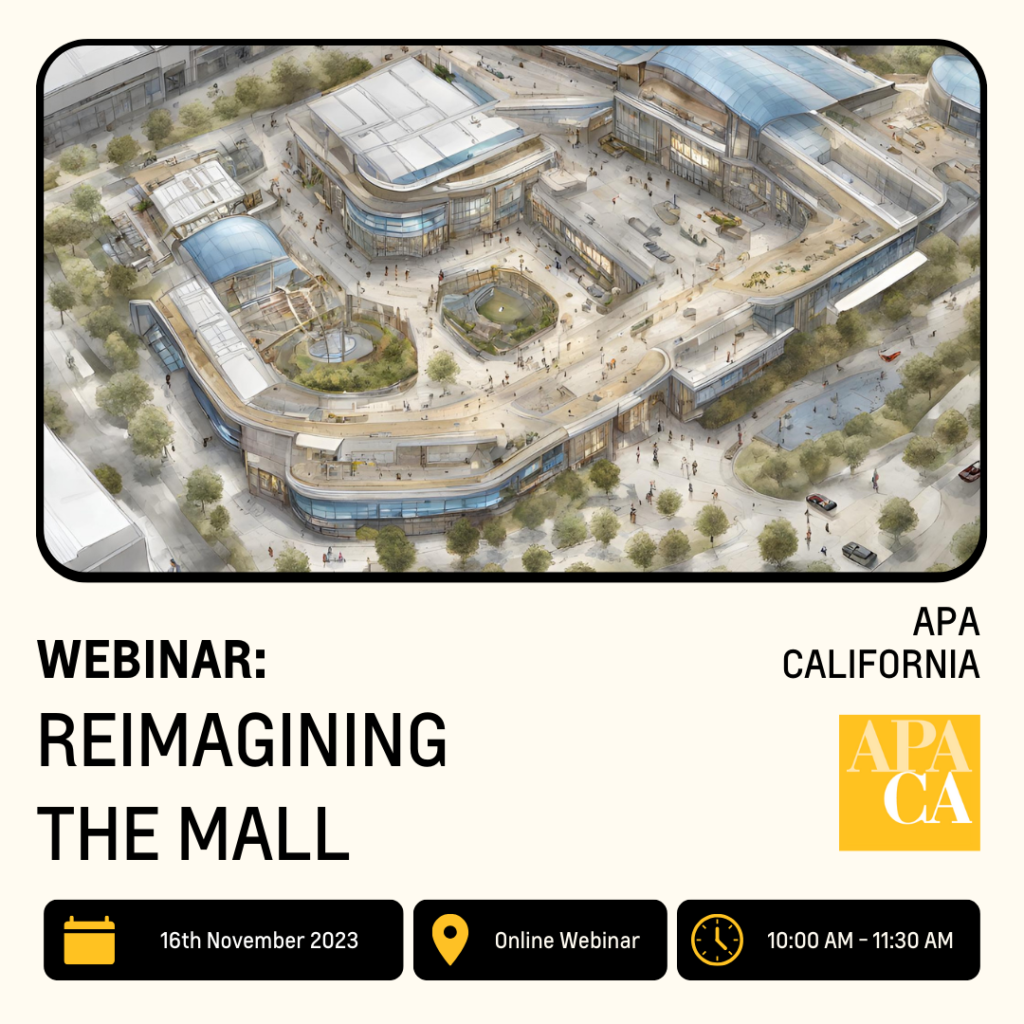 How can failing shopping malls be repurposed? Housing? Office? Retail? Entertainment? Hotels? Food court? Park space? Or all of the above? How much is too much? There are so many possibilities to transform auto-oriented malls of yesterday into next generation neighborhoods of tomorrow. How do city leaders re-imagine indoor shopping malls so that these projects address the community's priorities and needs? What are the components required to produce a successful project? What are some of the economic development tools that can be used? What about CEQA? What are some of the obstacles? Join us on this webinar, which will include economic development specialists and city leaders (featuring panelists from the City of Citrus Heights, City of Westminster, and City of San Diego) as we explore current retail trends and learn from case studies of mall redevelopments.
---
Questions? Contact support at [email protected]
APA Conference 2023 Sessions