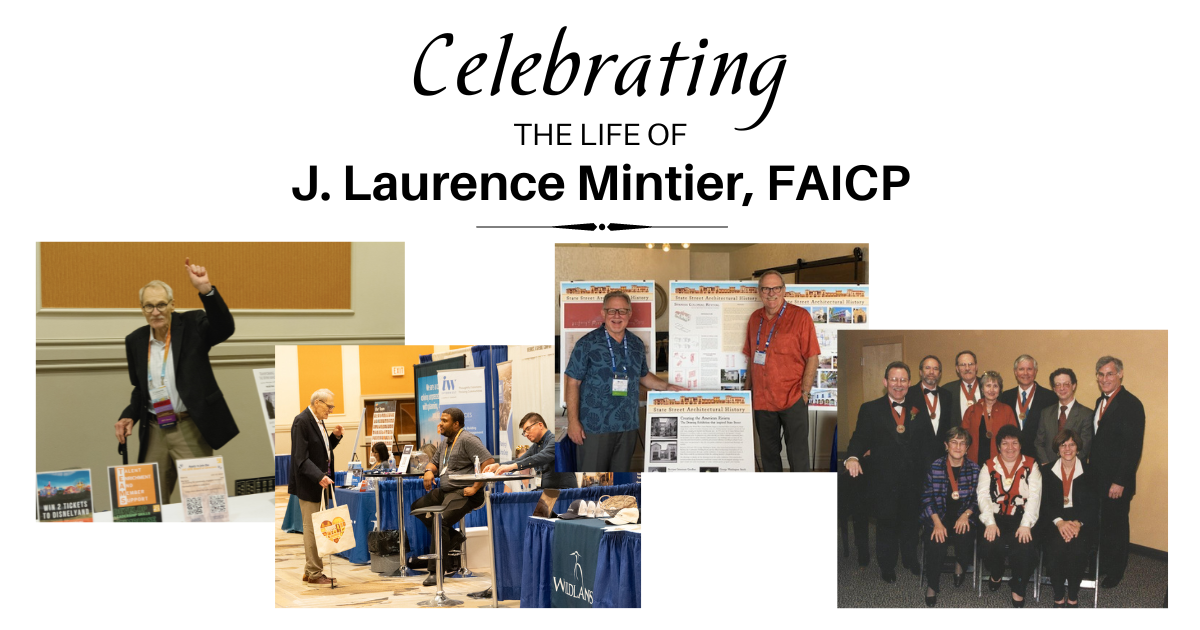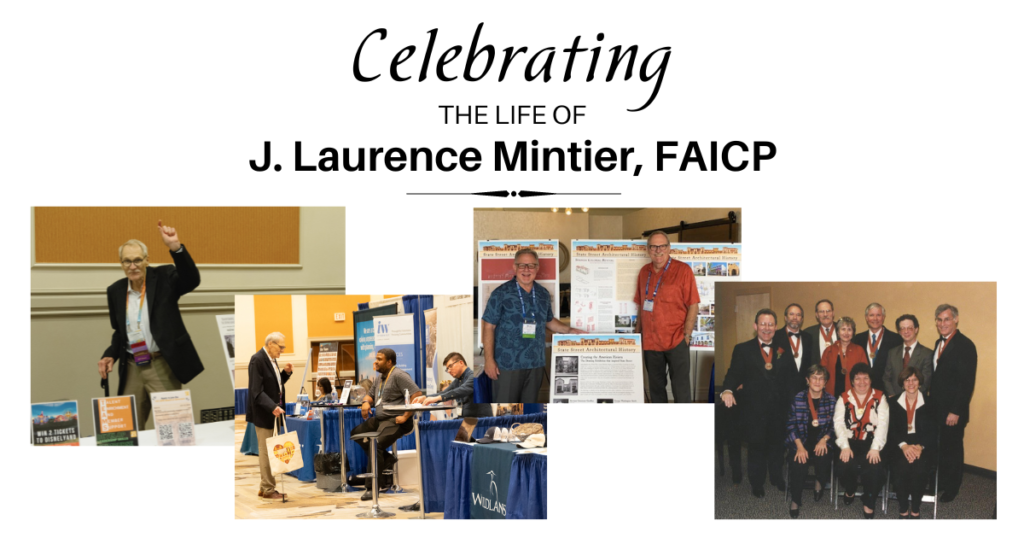 It is with heavy hearts that we inform the Planning Community of the passing of J. Laurence (Larry) Mintier, FAICP, Co-Historian and esteemed past president of both the California Planning Foundation (CPF) and the California Planning Roundtable (CPR) We bid farewell to a remarkable individual whose dedication to our profession left an indelible mark.
Larry played a pivotal role as the overseer of the Planning Emeritus Network's (PEN) Planner Remembrance Committee, ensuring that countless colleagues received the recognition they deserved over the years. Today, we find ourselves in a position to honor him for the immeasurable impact he had on our community.
APA California President Andrea Ouse, AICP noted, "Larry's work, his intellect and his commitment to the profession was so profoundly important that his reputation spanned decades and spanned regions. But he was equally known for his kindness, ability to listen, and generosity. We will all miss him."
Steve Preston, FAICP, Co-Historian, expressed, "It has been one of the great privileges of my career to work with Larry on the planning history and archives programs, and we will miss him terribly."
Tom Jacobson, Professor Emeritus at Sonoma State University, shared his poignant reflection, envisioning Larry being introduced by his dear friend Dan Curtin to the esteemed planners in Heaven. "It is a testament to the profound influence Larry had on our field, joining the ranks of renowned figures such as Ian McHarg, Daniel Burnham, Jane Jacobs, Robert Moses, Stanley Mosk, Jane Addams, Ebenezer Howard, and Rachel Carson."
"The loss of Larry Mintier extends beyond planning; it is a loss to humanity," noted Linda C. Dalton, PhD, FAICP, Professor Emerita at Cal Poly San Luis Obispo, expressed her deep sadness and emphasized how difficult it is to imagine a future without Larry's wise counsel.
Mike Moore, in adding his heartfelt words, described Larry as one of those rare individuals who inspired others to aspire to greatness. Larry's humor, compassion, thoughtfulness, dedication, and professionalism set an example worth emulating.
Larry Mintier's name became synonymous with excellence in planning. His work, intellect, and commitment to our profession were awe-inspiring. Yet, despite his accolades, Larry possessed a genuine warmth and made everyone feel valued. He was an attentive listener, an encouraging mentor, and a true leader who instilled confidence in others.
On behalf of the APA California Board, we extend our gratitude to Larry for a lifetime of unwavering commitment to the principles that shape our communities for the better. His contributions will forever be cherished, and his absence leaves a void that cannot be filled.
A future memorial is planned by the Mintier family, but a date has not yet been set.