Steps to AICP Certification
Please review the APA National website for up-to-date information and details on the AICP application process, requirements, and deadlines.
Step 1: Get Educated and Gain Professional Experience
Becoming a Certified Planner is a multi-step process. Applicants must meet specific criteria for education and experience when applying for certification. Check out the AICP eligibility requirements and find out if your experience qualifies.
Step 2: Apply for Certification
Applications are accepted twice a year in January and June. Submit an application to verify that you have met the education and experience requirements. Make sure your APA membership dues are up to date as applicants must be current members of the American Planning Association.
Step 3: Submit Your Experience Essays and Take the Exam
If your application is approved, you can submit your planning experience essays that demonstrate your professional planning experience and test your knowledge on the AICP Certification Exam. Both steps must be successfully completed before you can become AICP, but you may complete them in any order that works for you.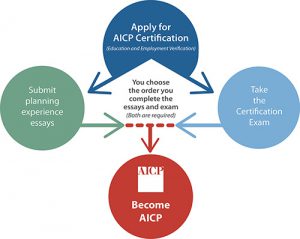 Step 4: Maximize Your AICP Certification
After you've successfully passed the Certification Exam, obtained approval of your planning experience essays, and paid AICP membership dues, you become an official AICP certified planner. However, it does not end there; certification is a commitment to upholding high standards of practice and continuing education through the Certification Maintenance (CM) program. Keeping professional knowledge and skills up-to-date is critical to remaining current in the practice of planning. AICP members must earn a total of 32 CM credits (equivalent to 32 hours of education) within a two-year reporting period.