The American Institute of Certified Planners provides the only nationwide, independent verification of planners' qualifications. Certified planners pledge to uphold high standards of practice, ethics, and professional conduct, and to keep their skills sharp and up-to-date by continuously pursuing advanced professional education. As a nationally recognized certification, AICP members demonstrate to employers and colleagues that they have the academic qualifications, relevant work experience, and mastery of essential skills required to serve their community effectively. For more information on the benefits of certification, visit: https://planning.org/aicp/why/.
The Chapter maintains records of new AICP members that achieved certification after November 2008. The archive files are available online here.
From 2013 to 2018, AICP members were also able to apply for Advanced Specialty Certifications (ASC) in environmental planning (CEP), transportation planning (CTP), or urban design (CUD).  While credential applications are no longer being accepted, ASCs are still supported and recognized by APA. A list of all Advanced Specialty Certificate Holders is available on the APA National website.
---
Steps to AICP Certification
Please review the APA National website for up-to-date information and details on the AICP application process, requirements, and deadlines.
STEP 1: Get educated and gain professional experience
Becoming a Certified Planner is a multi-step process. Applicants must meet specific criteria for education and experience when applying for certification. Check out the AICP eligibility requirements and find out if your experience qualifies.
STEP 2: Apply for Certification
Applications are accepted twice a year in January and June. Submit an application to verify that you have met the education and experience requirements. Make sure your APA membership dues are up to date as applicants must be current members of the American Planning Association.
STEP 3: Submit your experience essays and take the exam
If your application is approved, you can submit your planning experience essays that demonstrate your professional planning experience and test your knowledge on the AICP Certification Exam. Both steps must be successfully completed before you can become AICP, but you may complete them in any order that works for you.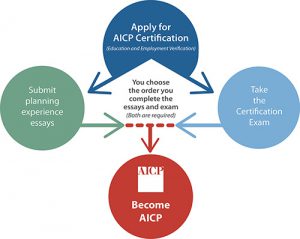 STEP 4: Maximize your AICP Certification
After you've successfully passed the Certification Exam, obtained approval of your planning experience essays, and paid AICP membership dues, you become an official AICP certified planner. However, it does not end there; certification is a commitment to upholding high standards of practice and continuing education through the Certification Maintenance (CM) program. Keeping professional knowledge and skills up-to-date is critical to remaining current in the practice of planning. AICP members must earn a total of 32 CM credits (equivalent to 32 hours of education) within a two-year reporting period.
---
AICP CANDIDATE PILOT PROGRAM
The AICP Candidate Pilot Program provides emerging planners with a path to start certification earlier in their careers. Students and graduates of planning-accredited programs may enroll in the program at any time and register to take the AICP exam prior to earning professional planning experience.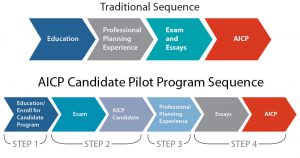 SPRING 2022 AICP CERTIFICATION CYCLE
PLANNING EXPERIENCE ESSAY DATES
For up-to-date information and details, visit the APA National website.
---
CERTIFICATION RESOURCES
Diversity Scholarship
APA is committed to providing opportunities for all to achieve excellence in planning by fostering equity, diversity, and inclusion in the organization and in the planning profession. This scholarship program is intended to make the profession more diverse and accessible to those with financial need. Diversity is an inclusive concept which encompasses, but not is not limited to race, ethnicity, class, gender, age, sexuality, ability, educational attainment, spiritual beliefs, creed, culture, tribal affiliation, nationality, immigration status, political beliefs, and veteran status. Scholarship recipients are eligible for reduced fees. For example, the certification process is currently $510, but scholarship recipients only pay $210.
To submit your interest in the Diversity Scholarship, please contact Stephanie Roxas, Vice President of Professional Development, at [email protected]. Include a brief statement describing how you identify with any of the diverse populations listed above. Eligible individuals will be recommended by the Chapter to APA National. Please note that scholarships must be awarded before beginning the application process.
On-Demand AICP Exam Training Course
APA California is pleased to offer a complete on-demand AICP exam training course. With over 12 hours of instruction by relevant field experts, this course provides the guidance and materials needed to better prepare for the exam. Study at your own pace! Learn valuable exam taking tips! All registrants will receive course updates regarding recent changes to the AICP exam process and scheduling.  The full course cost is $75 for APA Members, $25 for Student Members.
Topics include:
Part 1: Planning History and Context
Part 2: Exam and Training Course Overview (Free)
Part 3: Plan Making and Implementation
Part 4: Regulatory Law
Part 5: Ethics Training
Part 6: Public Participation
Part 7: Planning Trends, Demographics & Transportation
Part 8: Leadership, Administration & Management
Register here to access the full course.
Local Sections
Your Section Professional Development Officer (PDO) is a valuable resource. Section PDOs often organize examination preparation sessions and other AICP-related events. They can answer questions on the certification process, assist in reviewing your professional experience essays, and share available study resources and scholarship opportunities. Section PDOs can also connect local planners preparing for the AICP exam to form study groups. A list of Section PDOs for 2021 is provided below:
For general questions, please contact the Chapter PDO, Stephanie Roxas, AICP, at [email protected].
INFORMATION ON AICP CERTIFICATION